Intro: Finally an Air Hockey game in VR is here! Play fast paced air hockey while you immerse yourself in the comfort of a modern apartment overlooking the mountain side. Features: choose from 3 difficulty levels, customize your mallet color, puck, table top, gamepad support, and more.
Comfort Level:
Gentle
Internet connection:
Not Required
Number of Players:
Single Player
Genre:
Arcade
Space required:
60.4 MB
Supported Controllers:
Oculus Go Controller
Age Rating:
PG
Price:
 £2.29 ($3)
Movement:
Forward facing only
Playing Position:
Sitting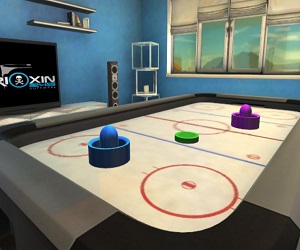 Review: Air Hockey VR is little more than you would expect it to be. It is a virtual simulation of an air hockey table! With a few settings to change the colour of your controller and puck, plus 2 choices of table colour there is at least something here to hold your interest for a short while. Sadly the price just doesn't justify the amount of content and no multi-player mode is just inexcusable. While the actual air-hockey table looks OK the head movement or Gamepad driven controls don't feel natural at all and the head movment will make you feel nauseous in time. If you really like air-hockey and see this game in a sale it might be worth a look, but only if you REALLY like it in the arcades and fancy playing forever alone.