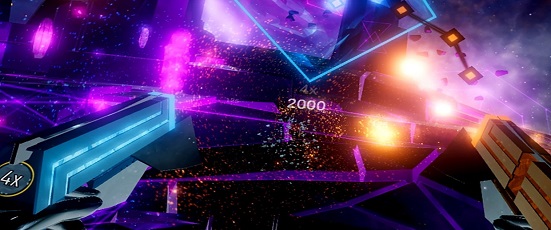 System: PSVR
Price at Time Of Review: £24.99
Comfort Rating: Green
Genre: Music and Rhythm
Size: 1 GB
Best Playing Position: Standing
Multi-Player: No
Age Rating: 15+
VR Shop Score 1/100: 85
Description: AUDICA is a VR Rhythm Shooter from Harmonix, the makers of Rock Band and Dance Central. Armed with a pair of rhythm blasters, you shoot and smash targets to the beat of a soundtrack that features songs from some of the world's most popular artists. The better your timing and accuracy, the better your score. The better your score, the higher your place on AUDICA's Leaderboards.
Review: AUDICA is not a music rhythm game that will grab you straight away, but I applaud you to stick with it. While at first, it will appear to be the same old tried genre, but it is getting good at the game that draws you in and you soon find yourself enjoying every beat and knowing which gun to shot before the icons appear. OK, so it's not as good as let's say Beat Saber, but there is still a lot to enjoy here and with more and more songs being added every month it can only get better and better. Just remember how basic the song library was for Beat Saber when it first launched and you will realise this game has a lot more going for it.