Intro:
Welcome to Cloudlands: VR Minigolf mobile edition! Cloudlands: VR Minigolf is a virtual reality minigolf experience like you've never experienced before. Cloudlands uses an intuitive control mapping between the virtual putter and your Samsung GearVR or
Oculus Go
controller to make swinging feel natural, just like swinging a real putter. Expect real-life golf skills to translate into the virtual world (oh no!). Don't worry though. It's minigolf! Everyone can have fun and play.
Comfort Level:
Gentle
Internet connection:
In-App Downloads only
Number of Players:
Up to 4 Players Online and Local
Genre:
Sports
Space required:
227 MB
Supported Controllers:
Oculus Go Controller
Age Rating:
PG
Price:
 £7.99 ($10)
Movement:
360
Playing Position:
Standing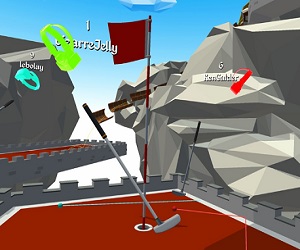 Review: While Cloudlands: VR Minigolf has a big price on its head it does deliver its monies worth. I put my hand on my heart and tell you that I was shocked at just how responsive this game really is essentially how real it feels playing with the Oculus Go motion controller. Sure it's far from flawless and its basic graphics might put some people off. But playing this with a few friends both local and online is where Cloudlands: VR Minigolf really comes into its own. Throw the multiplay element in with the hundreds of user-generated holes that you can download and you have one of those VR games that is expensive, but still well worth a download. I will just quickly add that even if you don't play online with people you can still download all the user created mini-golf holes and play then meaning you will still get value for money.