Intro: You can enjoy tennis with a natural swing, with the controller as a racket. Especially four experienced tennis you can enjoy a very realistic feeling of operation. You can set details such as the height of the player, the height of the hit point, grip, etc., and you can play with your own style. By nurturing computer characters, you can nurture strong players. Since the character learns by artificial intelligence, you should become an excellent trainer and grow characters. Besides network fighting, we have a watching mode that allows nearby players to watch the battle situation. Not only the person wearing VR goggles but also the people around can share fun.
Comfort Level:
Gentle
Internet connection:
Required
Number of Players:
Single Player
Genre:
Sports
Space required:
167.3 MB
Supported Controllers:
Oculus Go Controller
Age Rating:
PG
Price:
 £2.99 ($4)
Movement:
Forward facing only
Playing Position:
Sitting
[embedyt]https://youtu.be/TjEMOBr9r2Y[/embedyt]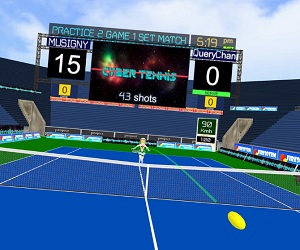 Review: Playing Cyber Tennis is a lot like having teeth pulled out. Sure, it is painful, but in the end you know it is for the good of you. The complex tutorial and elaborate settings that you have to sit through and playthrough are almost excruciating! But get past those and you will find a very playable tennis game that looks pretty good and has more than enough play modes to justify its asking price and even has a multiplayer mode on top of it and online match watching for those who just want to watch others play. This game will challenge you to enjoy it. It will push you to the limits of your patience and then rewards you with a fun tennis game filled with all the options and play modes you could ever want.