---
"…feels as real as when it's played down the local pub."
---
Review System: Oculus Rift CV1
Price at Time Of Review: £8 ($10)
Comfort Rating: Green,Amber,Red
Genre: Sports
Size: 1.08 GB
Controller System: Touch Controllers
Best Playing Position: Standing
Multi Player: Yes (For Up To 2 Players)
---
Darts VR (Oculus Rift)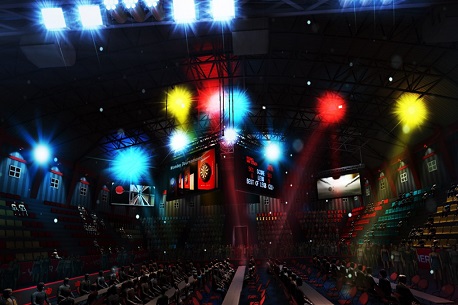 ---
Intro:
Darts VR is a casual sports game. Take part in the most immersive arena or party experience with your family and friends. The game offers party mode and professional arena mode. You can play two player game in arena or practice in single player game. Keep track of best scores and session best score for party mode. Play 501 game or most scored by shooting three darts.
Review:
If there is one aspect of SportsBar VR that I enjoyed it was the game of darts. But it was not up to much because it was little more than one mini game mixed in with many. So imagine my joy when I found Darts VR! With two games modes to choose from you can play normal 501 darts on your own or with a friend, or you can play "party mode" which is basically darts in a nightclub with disco lights, music and a few of the worse animated dancers you will ever see and the idea of this mode is to score the highest amount with 3 darts.
The only other mode is the classic 501 game which sees you need a double to finish. This mode is single or two player mode (not online) and is a much more traditional game of darts with an audience behind you, cheering you on. While the darts do giant sized, I was surprised at just how accurate it was to throw them with the Oculus Touch controllers. It feels so oddly natural and accurate (even though I'm a rubbish darts players and couldn't hit a barn door with one).
---
---
Verdict: While I certainly wish it was half the current asking price, Darts VR is surprisingly good is a little lacking in modes. The gameplay physics are spot on and it feels as real as when it's played down the local pub. A few more modes like maybe a challenge mode and an online multiplayer mode and this game will be pretty awesome. But even now it's worth a download for anyone who loves darts. It's not the bullseye that is for sure, but it hits the board which is a good start.