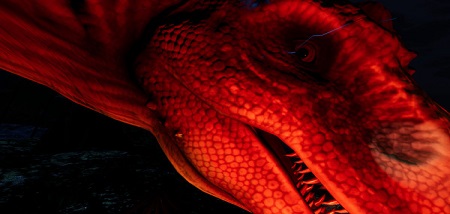 System: Valve Index & HTC Vive
Price at Time Of Review: £2.89
Comfort Rating: Red
Genre: Interactive Experience
Input: Tracked Motion Controllers, Keyboard & Mouse
Best Playing Position: Sitting
Multi-Player: No,
Age Rating: 15+
VR Shop Score 1/100: 75
Description: VR Dinosaurs Like You've Never Seen Them. It is time to head to the distant past when herds of dinosaurs roamed the land and no creature was safe from the next larger predator. Familiarize yourself with the grazing, pack hunting, swimming, and fleeing dinos. You never know where the next threat may lurk. So load up in our safe high tech launch and reception centres, relax, and enjoy your trip through DinoTrek where nothing can go wrong, go wrong, go wrong.
Review: DinoTrek is an interactive ride of sorts in which you will be travelling around a theme park filled with dinosaurs (that sounds strangely familiar!!!). Copyright infringement put aside this is a pretty good VR experience in which you will be seeing loads of different dinosaurs and one or two jump scares. There are even two different ride modes from the normal one to the "fun" miniature version of the ride which does give you some much-needed longevity as the "ride" itself only lasts just over 5 minutes. While I don't recommend this is as a VR showcase due to the high nausea levels it is worth a look for the price as it is quite well made. If you like your VR coasters, do give this a look!