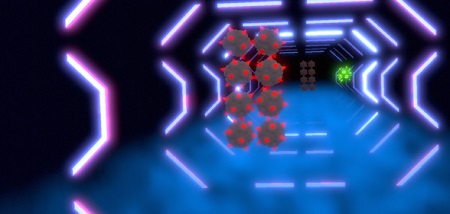 System: Valve Index, HTC Vive & Oculus Rift
Price at Time Of Review: £7.19
Comfort Rating: Yellow
Genre: Music and Rhythm
Input: Tracked Motion Controllers
Best Playing Position: Standing
Multi-Player: No
Age Rating: PG
VR Shop Score 1/100: 25
Description: This is a dynamic, casual, VR arcade game in which you slash enemies with a whip while protecting yourself with a shield from deadly shots. The battle takes place on the dance floor accompanied by energetic electronic dance music. The game mixes samples of different rhythms and melodies in real time depending on how you slash items. You can affect music shifts and sound duration with your whip. Everything in the game moves to the rhythm of your music.
Review: On paper 'DJ Whip VR' might have sounded like a good idea. Essentially it is Beat Saber only played with whips instead of a light sabre! But there forth lies the problem with this game. The problem with whips is that a lot of the "whip" action relies on your feeling the weight of the whip and flicking it at the right "snap" to get it to "whip". So take that weight element away and you are left with very bad whip physics that make the game almost unplayable. Sure, you might get there in the end, but most people will give up on this a long time before.
Besides, that is just the start of the problems of this game as the beats are not in time with the music and the choice of songs is pretty diabolical. If this was free it might have been worth a go, but when it costs £7.19 it is easy for me to suggest you leave it well alone.