---
"…there isn't much wrong with this game at all…"
---
Review System: Oculus Rift CV1
Price at Time Of Review: £1.49 ($2)
Comfort Rating: Green
Genre: Sports
Size: 436.47 MB
Controller System: Touch Controllers
Best Playing Position: Standing or Sitting
Multi Player: No
---
Goaltender VR (Oculus Rift)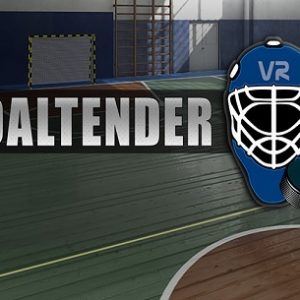 ---
Intro:
Goaltender VR provides different customisable goaltender challenges including achievements and leaderboards. Train your skills using customizable training scenario system and customise your equipment look. When ready, prove to be best VR goalie by beating other players leaderboard scores in different challenges!
Review:
How good are you hockey goaltending skills? Would you say they were up to scratch or that they could do with some training and improvement? If the latter is true this might well be the game for you. Goaltender VR sees you playing as a hockey goalkeeper. This idea is to keep as many balls or pucks out of the goal using your pads or paddles. With three main game modes: Shooting Gallery (Simple as it gets. block objects from going into goal), Color Block (Use left blue paddle and right red paddle to block same coloured balls.) and Target Shooting (Catch the balls with your paddle and then shoot the balls at the floating targets).
But the games don;t end there. There is a range of gameplay customisation you can do from making the goal smaller to making the balls faster. Plus on top of that, there is also a global leaderboard to try and get onto. Be warned that even on the easiest of settings this is still a very physical game and will make you rather warm.
---
---
Verdict: While basic in both looks and user interface this game is still a great laugh to play. With some nice game customisation settings, global leaderboard and the possibility to play multiplayer via a score challenge with friends, there isn't much wrong with this game at all given the price you pay for it. If you want a physical game with the possibility of being played as a party game, this will cover those bases nicely.