Intro: Welcome to Halloween Roller Coaster. Get Ready for the Scariest VR Halloween Roller Coaster Experience. It's a fun way to celebrate the Halloween. Try different cross-breeds of the characters and be amazed to see the results. Enjoy of high quality images. The roller coaster contains beautiful pictures with ghosts, spiders, witches, pumpkins and more. You are going to experience different theme in a single ride.
Comfort Level:
Extreme
Internet connection:
Not Required
Number of Players:
Single Player
Genre:
Ride Simulator
Space required:
144.2 MB
Supported Controllers:
Oculus Go Controller
Age Rating:
PG
Price:
 £0.79 ($1)
Movement:
Forward facing only
Playing Position:
Sitting
[embedyt]https://youtu.be/ckuSmN938Hg[/embedyt]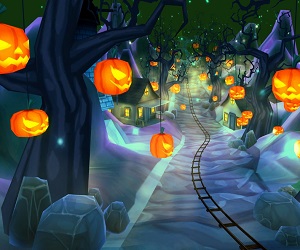 Review: If you want a "spooky" Halloween rollercoaster instead of a "scary" one Halloween Roller Coaster is the one you want. Its little one friendly, no jump scares, nothing too scary and it's a nice slow ride throughout. Imagine a virtual ghost train and you have a rough idea of what this ride is like. This is NOT one for us adults and it's far from being one of the great virtual coaster rides. But for less than a single pound its a little bit of kid-safe Halloween fun that just about anyone can enjoy. Just buy this app once and crack it out year after year!