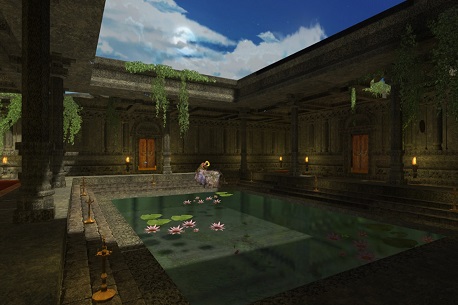 Price at Time Of Review: £4 ($5)
Comfort Rating: Green (No Movement)
Genre: Relaxation and Meditation
Supported Platforms: Oculus Rift, Rift S
Supported Controllers: Oculus Remote
Best Playing Position: Standing, Sitting, Roomscale
Multi-Player: No
Age Rating: PG
---
Description: Have trouble sleeping? mindZense Sleep is a great tool for calming down and getting a good night's rest! Going to sleep doesn´t necessarily mean you should be counting sheep – with VR it becomes an experience. The VR universe helps you to leave the day behind and enter a dreamier state of mind. As your body settles down your mind will settle down as well.
Review:
Anyone who is a little restless through the night will know that being told to "just close your eyes and relax" is much easier said than done. But this app suggests that meditation practices before going to sleep might help some people (not everyone, but some) to sleep a little better. MindZense Sleep is a quiet, calming environment that gives you the VR place to do just that.
Placed within a zen garden setting, the idea is you place yourself sitting (or if possible laying) on your bed and relax the brain a little with some light breathing exercises. The idea is to focus on the smooth voice of the app and get your mind off of those busy thoughts so you can relax and let it all go. It's not so much about relaxing enough to sleep, it is more about emptying the mind so you can then sleep better.
While as basic as they come in both looks and content, I get the feeling that it is kind of the idea to be like that. No fancy graphics to distract your vision and no movement to distract your mind from the task at hand. I would have liked to have seen a location picker to be able to pick a prime spot to relax and also a breathing guide (visual) would have been nice. But hey! It gets the job done and does exactly what it says it offers. If you are indeed having a bit of trouble sleeping at night, give this app a go! What's the worse that could happen?