Intro: Monster Halt VR is the VR version from Monster Halt AR! Play in this fantasy First Person Shooter fighting creatures that are invading your home!
– Store: Buy weapons, throwables and spells to get better in the fight!
– Quick match: Have a quick match fighting the monsters that you can fight!
– 4 monsters to fight: You will fight with the monsters when you get the level to do it.
Comfort Level: Moderate
Internet connection: Not Required
Number of Players: Single Player
Genre: Shooter
Space required: 665.74 MB
Supported Controllers: Oculus Go Controller
Age Rating: PG
Price: £2.29 ($3)
Movement: 360
Playing Position: Standing
[embedyt]https://youtu.be/GTwn3lt6Yxc[/embedyt]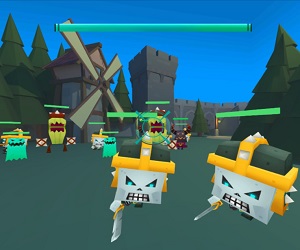 Review: It has to be said Monster Halt VR has a lot of potential. With full freedom of movement via the Oculus Go controller and a nice range of weapons, spells and throwables that you can upgrade and swap between. You do this by earning crystals in the main game and these are found randomly by killing the monsters. On paper that makes it sounds pretty exciting and the good quality music sure makes it sound and feel a lot more exciting than it actually is! Sadly the AI of the enemies is pathetic and the playing areas far too big for the low amount of enemies that appear. Sadly there aren't any multiplayer options and you will soon find yourself getting really bored with this game. But the good news is there is nothing about this game that can't be improved with a few updates. While I can't suggest you download it now in playability terms, I ask you to consider downloading it to support the developer in the hope of updates in the near future.