Description
---
"…this isn't just a VR headset, it's a piece of history…"
---
Please note: Box weight, size and contents might not represent your own product as sometimes different sellers use their own packaging and often include extra items like controllers, wipes, cloths or other promotional materials.
---
Whats in the box…
Headset with attached control box
HDMI lead
Micro USB to USB 2.0
3 Sets of lenses
Microfiber Cloth
Power brick and plug adapters
HDMI to DVI adapter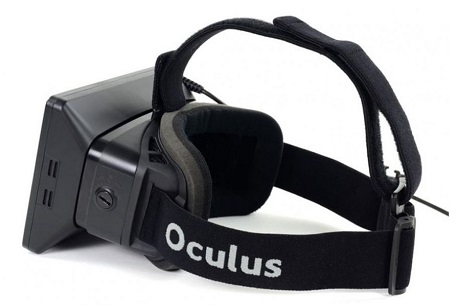 First Impressions: Given that this was the very first public release of the Oculus headset it is surprising just how good it is. There aren't too many wires, it feels very lightweight. I wouldn't say it has anywhere near the quality that the DK2 or CV1 has, but it is still impressive none the less. Holding it in my hands it is easy to see why those early developers got so excited.
---
Pupil Adjustment: No (But it does have changeable lenses)
Focus Adjustment: Yes, Independent
Product Weight: 378 g
Overall Build Quality (1-10): 7
Product Weight: 366 g
Overall Build Quality (1-10): 8
Resolution: 1280 x 800
Gyroscope: 1000hz
Motion-To-Photon Latency: 18 ms
Field of View: 100°
---
Minimum System Configuration…
Operating System: Win 7 / 8 / 10
CPU: Intel i5 and above
GPU: DirectX 3D10, Nvida GT X720 / AMD R9 290 and above
Storage: 4GB Min
Ports: support HDMI 1.4B video output, USB 2.0
---
Features Review: This headset has more features on it than the DK2! It has independently adjustable focus distance as well as a control box that has both brightness and contrast settings. While the head strap didn't have the greatest amount of adjustment I did manage to make it feel comfortable in the end.
---
Additional Information…
Average Price at Time of Review: £40 (USD $50)
Head Strap: 3 Point, Elasticated and Adjustable
Strap Quality(1-10): 7
Face Padding Type: Foam
Padding Depth: 15 mm
Nose Grove Depth: 34 mm
Nose Grove Width: 37 mm
Well Ventilated: Yes
Room for Glasses: 5″ Max
Built in Sound: No
Works With Augmented Reality Apps: No
Lens Size: variable
Lens Type: Changeable Optical Resin Lenses
Min Lens Distance: 60 mm
Max Lens Distance: 60 mm
Comfort Score (1 – 10): 7
Value For Money Score (1 – 10): 8
Range Of Colours: N/A
Other Names: "Oculus Rift Development Kit 1"
---
Final Verdict: Compared to the headsets we have today like the HTC Vive and the Oculus Rift CV1, this legacy headset seems pretty crappy in comparison. But these days with them being so affordable it might enable a young developer to break into the VR games market. It seems to work with a lot of Steam VR games even if it doesn't work Oculus Home meaning it does still have its uses.
Provided you can look past its super low resolution you might find this headset a good option for getting into PC powered VR headsets. At the end of the day, this isn't just a VR headset, it's a piece of history and you can easily see what made all those original Oculus Kickstarter backers throw their money at it.