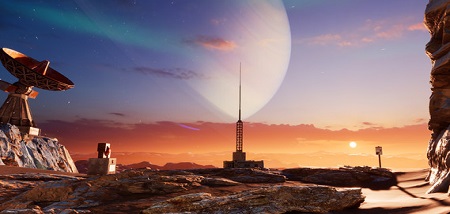 System: Valve Index, HTC Vive, Oculus Rift & Windows MR
Price at Time Of Review: £19.99
Comfort Rating: Yellow
Genre: Adventure
Input: Tracked Motion Controllers
Best Playing Position: Standing
Multi-Player: No
Age Rating: 15+
VR Shop Score 1/100: 90
Description: Red Matter is a story-driven VR puzzle adventure game set during a dystopian Sci-Fi Cold War. Take on the role of Agent Epsilon, an astronaut of the Atlantic Union dispatched to an abandoned Volgravian base on Rhea, one of Saturn's moons. Your mission: to investigate a shady top secret research project.
Solve puzzles in a beautiful, high-detail brutalist environment which only becomes more and more surreal as the story progresses. Use an array of hi-tech tools to decipher hidden messages and mechanisms and uncover ever deeper and darker secrets of the facility. But beware of what you may find… Once you discover the truth, will you be able to stomach it
Review: While not as groundbreaking as the Oculus Quest version of this game Red Matter is still pretty great on our PCVR headsets. It looks amazing and you can easily lose yourself in its sci-fi world for hours on end. But sadly it only lasts for a couple of hours and while that short playtime it indeed enjoyable, it still felt a little sort of giving value for money. But…wait for this to be in a sale and you will have yourself a real bargain. Personally I was still happy to pay full price, but I can understand why some people will feel it is too short.