Intro: Smash The Beat is an energetic music game which will surround you with music. Come face to face with the beats. Play with 15 handcrafted tracks available in the game or choose your own MP3. All you need to do is to feel the music and smash incoming cubes exactly with the beat. Blocks with the blue arrow smash with the blue tool, for orange arrows use the orange tool. How to change the colour? Just press the trigger.
Comfort Level:
Gentle
Internet connection:
Not Required
Number of Players:
Single Player
Genre:
Music, Rhythm
Space required:
257.5 MB
Supported Controllers:
Oculus Go Controller
Age Rating:
U
Price:
 £3.99 ($5)
Movement:
Forward facing only
Playing Position:
Sitting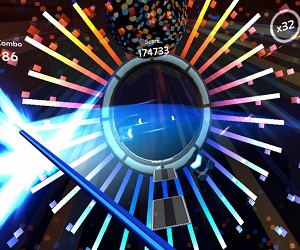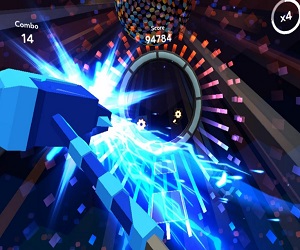 Review: With so many music/rhythm games going into the Oculus Go store it is getting harder and harder to stand out from the crowd. The good news is Smash The Beats manages to do just that and I would even go so far as to say it might well be the best "Beat Saber" style game on the Oculus Go! Sure, it isn't flawless and the lack of any menu music, effect or sound as you swing the weapon or hit each block (other than the skulls) is annoying and there isn't a whole lot of songs to choose from (but you can use your own songs to surprisingly good effect). The good news is the basic gameplay is good, the idea and graphics are also good which means it has a lot of potential and that is what makes this such a good game. It's pretty good now, but with some small changes, it could easily become even better.