Intro: The Soul series game will be six episodes. The player will act as Frank, who has the ability to go across his dreams. Frank will rescue his deceased daughter Daisy, who was stuck in the dream. In the game, Frank will go through a series of exploration, interaction, collection, fighting and other things. When he is about to rescue Daisy, Frank is stuck in a new large conspiracy. As the game series goes further, Frank will face his deceased daughter, wife, and a monster. The player will experience the unprecedented thrilling VR game adventure.
Comfort Level:
Gentle
Internet connection:
Not Required
Number of Players:
Single Player
Genre:
Horror, Adventure
Space required:
227.3 MB
Supported Controllers:
Oculus Go Controller
Age Rating:
15+
Price:
 £1.49 ($2)
Movement:
360
Playing Position:
Standing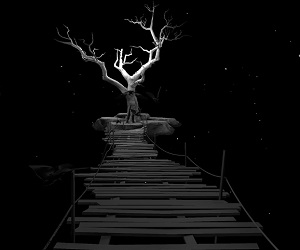 Review: Graphically Soul Dimension is a treat for the eyes. While the waypoint driven gameplay isn't great the movement is smooth and everything looks nicely atmospheric. With some OK voice acting and a creepy storyline, this is an oddly immersive app that sadly doesn't last even half as long as I would have liked. But its the lack of updates and future storylines that is the main reason this doesn't get a gold award. This game has been out a long time and updates are simply not happening which is a real shame because it is indeed a great game. If you want something nice looking to scare yourself with (without being too scary) this is the app for you.