---
"…like playing Windlands on drugs!"
---
Please note: While this game / app will look and feel just like it looks and seems on the same system we reviewed it on. If you choose to play it on another system (if available) which might make it a significantly different experience in both looks and gameplay.
---
Software Name: SwingStar
Age Rating: 12+
Review System: Oculus Rift DK2
Price at Time Of Review: £4.99
Comfort Rating: Amber
Genre: Adventure
Size: 2.24 GB
Ads: No
---
SwingStar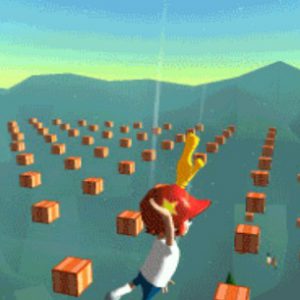 ---
Intro: Have you ever wanted to fly? In Swing Star VR, you are a kid that can swing from anything with your spring-loaded hand-helmet to reach the portal-creating resonator bell. Swing Star is an acrobatic swinging adventure game that is easy to get into, but hard to master. Explore a colourful, low polygon world by swinging through magical deserts, bright forests, steep canyons, and many more bizarre and beautiful worlds.
Review: Played inside a bright and colourful game world you play as some sort of daredevil, deathwish boy with a special helmet that has a spring loaded giant hand on it. This hand can grip to various things and propel your character along.
The idea is fairly simple. You have to get from the start to the end of the level and ring the bell at the end. Oh, and you can't touch the floor! What this means is you have to flip, spin and throw yourself all over the place just to get to the next block. There is nothing complicated about the controls, just look grab and fling! Some of the later levels are massive, but that makes them even more fun. Having to swing from block to block in this crazy game is like playing Windlands on drugs!
---
---
Verdict: With just 16 levels to play with (for now anyway) there is not a lot to explore. But getting those 3-star awards will take some time and effort. This is a cheap fun game that will make a lot of people feel VR sick, but for those of us with stronger stomachs, it's a fun joyride that will feel as if you are flying around and pulling off the impossible stunts yourself.