Intro:
Tripeaks Solitaire card game with beautiful graphics in VR! It features: Full
Oculus Go
-Controller support, Three difficulties, Smooth graphics, online high scores, 150 levels with different layouts, 5 languages selectable (English, German, Spanish, Turkish, Polish)
Comfort Level:
Gentle
Internet connection:
Not Required
Number of Players:
Single Player
Genre:
Card Games / Gambling
Space required:
731.9 MB
Supported Controllers:
Oculus Go Controller
Age Rating:
PG
Price:
 £1.49 ($2)
Movement:
Forward facing only
Playing Position:
Sitting
[embedyt]https://youtu.be/MxFi-bLxCv8[/embedyt]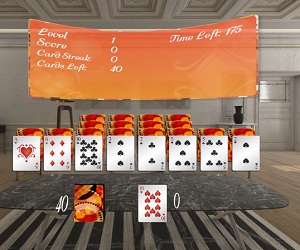 Review: TripeaksDreamland VR is basically a virtual game of Tri-Peaks Solitaire. With a nice posh livingroom environment to play in and gentle music to listen to while you are playing this can be an oddly relaxing game that engulfs time like it was nothing. With 150 levels this game definitely has a lot of content, in fact, it has more than enough to justify its own asking price. While playing virtual solitaire is not going to be for everyone those who do like it will enjoy this virtual version of the classic game. While it does have a lack of settings and the frame rate is a little jumpy I still think its worth a download if you often find yourself playing Windows Solitaire at work instead of working.