---
"…truckloads of fun to be had."
---
Review System: Oculus Rift CV1
Price at Time Of Review: £1.49 ($2)
Comfort Rating: Amber
Genre: Arcade
Size: 610.24 MB
Controller System: Oculus Remote
Best Playing Position: Sitting
Multi Player: No
---
Tunnel Runner (Oculus Rift)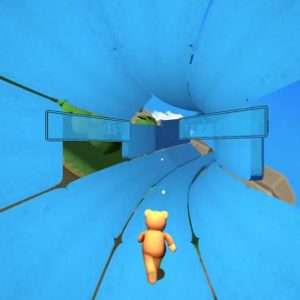 ---
Intro:
Run through the infinite space twisted tunnels in multiple fantasy environments. Jump to avoid falling down, collect points to break your records. An awesome fast paced VR experience with easy controls. Existing soundtracks that increase pinches as you gather more speed in the tunnel. Support keyboard, remote control and game controller. Playgrounds include teddy bear in forest, skeleton in graveyard, fiery dragon in lava world, snowman in white mountain, metal ball in outer space and F1 car in racing town.
Review:
Tunnel Runner is unsurprisingly a tunnel racing game that sees you going down a neverending tunnel trying to get as far as you can while avoiding the holes in the tunnel. You get to choose from being a teddy bear in forest tunnel, a skeleton in graveyard tunnel, a dragon in lava tunnel, a snowman in white mountain tunnel, a metal ball in the outer space tunnel and finally an F1 car in the road tunnel. So more than enough variety to keep people happy.
This game is not all about the tunnel racing, there is also points to grab which are the little white Pac-Man balls. So while it doesn't have any multiplayer mode you can play with friends by doing a score challenge.
---
---
Verdict: For just a couple of quid, you can't go far wrong by getting Tunnel Runner. Sure it's silly and very repetitive, but that is part of its charm. I challenge you not to laugh at the Teddy tunnel the first time you play it. There are big dollops of WTF in this game, but there is also truckloads of fun to be had. If you love a challenge give it a go. For less than the price of a good cup of coffee, you will get your money's worth at least from it.