---
"Great game, great price and constantly being improved…"
---
Review System: Oculus Rift CV1
Price at Time Of Review: £8 ($10
Comfort Rating: Green
Genre: Shooter
Size: 816.7 MB
Controller System: Touch Controllers
Best Playing Position: Standing
Multi Player: No
---
Unruly Ghouls (Oculus Rift)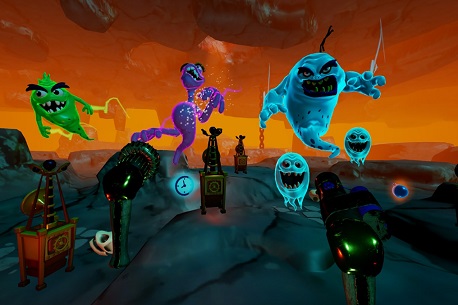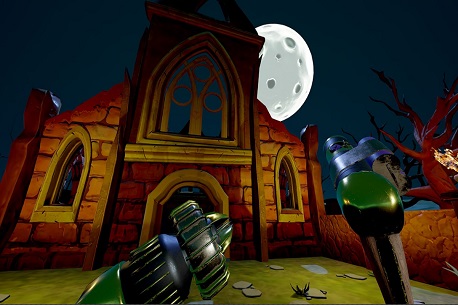 ---
Intro:
Unruly Ghouls is an insanely fun VR arcade style defence shooter set in a beautifully spooky environment. The ghouls may look cute but they must be stopped! The only thing keeping them from taking over are your super high tech anti-ghoul wards, which these ghouls will stop at nothing to destroy. Compete with your friends for the high score, the top ten scores and initials are saved, the perfect VR party game! Collect spectral orbs to power up your inventions or repair your anti-ghoul wards! Grab your ghoul hunting inventions, defend your anti ghoul wards and take these ghouls out! Experience what it feels like to be inside an arcade game.
Review:
Forgetting the new film that was rubbish, watching Ghostbusters as a child I knew what I wanted to be when I grew up…a Ghostbuster! Turns out that isn't a real job at all so I had to work in a factory, but Unruly Ghouls is reviving my dream and enabling me to become a fully fledged Ghostbuster. Played using the Oculus Touch controllers the idea of the game is to shot ghosts with your gun (sadly not a beam gun) and suck them up with the ghost capture gun (sadly not a trap). Wave after waves will come for you and you have to stop them before they stop you.
While there are quite a few levels to be played this is a very hard game and getting past the first few waves is considered a goal for your first few attempts. But work through that, keep playing and you soon get the hang of it and start to use both your gun and your power-ups more wisely.
---
---
Verdict: If you ever wanted to become a Ghostbusters, this might be the best chance you'll ever get. With its non-scary cartoon graphics (although I did jump a few times when a ghost appeared right next to me or from behind me) it can be played by the whole family. Sure, it gets repetitive quickly, but throw in a score challenge with some friends and you could be playing this for hours. Great game, great price and constantly being improved by the developer. What more could you ask for?