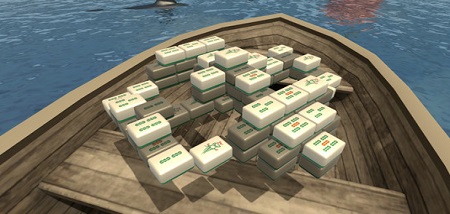 System: Valve Index, HTC Vive & Oculus Rift
Price at Time Of Review: £2.89
Comfort Rating: Green
Genre: Puzzle
Input: Tracked Motion Controllers
Best Playing Position: Sitting
Multi-Player: No
Age Rating: PG
VR Shop Score 1/100: 75
Description: No matter if you are a mahjong master or a beginner, this game will be your best choice! Creative design of solid 3D mahjong levels, simple game rules, suitable for everyone! It's transformed from the traditional matching game and brings relaxing experience to players in a 3D way. Be the master and pair all the cubes to eliminate them on over 60+ levels!
Review: While it isn't going to be for everyone I have to say 3D Mahjong worlds is a pretty good little Mahjong game. It got 60+ levels and several playing environments, in fact, the only thing missing is the ability to change the style of the tiles themselves. OK, so many it could have done with a multiplayer option, but overall it looks great, it's simple to play and it is kind of relaxing. If you like the classic game of Mahjong for £2.89 for can't go wrong here.