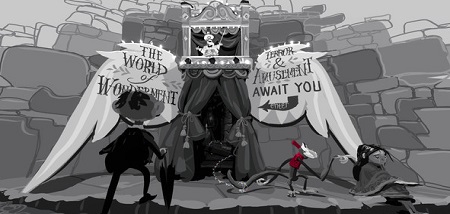 System: Valve Index, HTC Vive & Oculus Rift
Price at Time Of Review: Free
Comfort Rating: Green
Genre: Interactive Experience
Input: Tracked Motion Controllers
Best Playing Position: Sitting
Multi-Player: No
Age Rating: PG
VR Shop Score 1/100: 80
Description: A Show of Kindness is a three-act VR experience through which the user navigates an unfolding story frozen in time, crafted with meticulous detail by concept artist Peter Chan using a custom build of Tilt Brush. Tilt Brush's room-scale technology allows users to walk through three scenes and listen to the ambient sounds that each character inspires. In this three part story, you will journey with our protagonist, a young girl searching for a home, through staggering environments and whimsical creations in Chan's heartwarming immersive storytelling vignette.
Review: 'A Show of Kindness' is one of those VR experiences that is hard to put into any one genre, but it is extremely enjoyable. There is no gameplay nor a storyline as such, you kind of guess what the story is by what is going on all around you, its kind of VR art and storytelling rolled into one. While some will moan about the 12 minutes run time It is free, well made and something that simply makes you smile and for me that makes it well worth a download.