---
"It's like a work of digital art that you can explore."
---
Please note: While this game / app will look and feel just like it looks and seems on the same system we reviewed it on. If you choose to play it on another system (if available) which might make it a significantly different experience in both looks and gameplay.
---
Age Rating: 12+
Review System: Oculus Rift CV1
Price at Time Of Review: £5.99 ($7)
Comfort Rating: Amber
Genre: Puzzle
Size: 363.76 MB
Controller System: Gamepad
Best Playing Position: Sitting
Multi Player: No
---
Annie Amber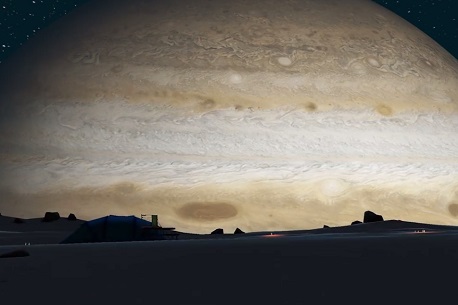 ---
Intro:
Solve thrilling puzzles through all the solar system experiencing the amazing life of Annie Amber, from her birth until her final days. Explore the entire solar system at your own pace using just your head to move or to solve the puzzles! From the creator of MIND: Path to Thalamus, the VR, award-winning, indie game of the year.
Review:
Annie Amber from the award-winning Carlos Coronado is a journey through the life of a girl called …wait for it…Annie Amber! You start from the crib she was raised in, to her beautiful death, but of course, things are never that simple and you will explore through all her life solving a few puzzles and interacting with a few things along the way.
You navigate through the experience via looking points, white circles that are essentially the next waypoint. Each environment looks more beautiful than the last and what you get out of each scene, each location is up to you to interpret for yourself. It's like a work of digital art that you can explore.
---
---
Verdict: OK, so I never really started to understand what was going on in Annie Amber, but that is OK, I was enjoying not knowing. Keeping that mystery and suspense while I enjoyed travelling through each crazy room or environment, always wondering what I would come across next. This is not for action fans or people who like the faster games, this is for people who are just happy to be in VR and enjoy the sights and sounds around them. Download it, relax and just explore.