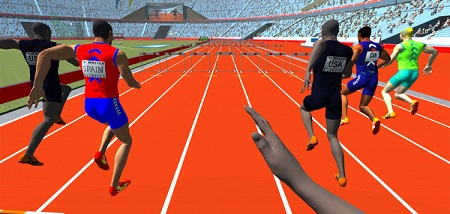 System: Valve Index, HTC Vive & Oculus Rift
Price at Time Of Review: £2.09
Comfort Rating: Red
Genre: Sports
Input: Tracked Motion Controllers
Best Playing Position: Standing
Multi-Player: No
Age Rating: PG
VR Shop Score 1/100: 60
Description: You will feel inside a stadium where you can practice and compete in different athletics sports. The public will encourage you to achieve your goals, improve the times and distances of the World and Olympic records.
Review: The first thing I thought about when I was doing this review for 'Athletics Games VR' was bollocks. Yep! I so badly wanted this to be a great game that I was willing to expect a few flaws, a few niggles, but sadly it is not a good game at all, despite how much I wanted it to be. While the main grapics are not bad the animation of the characters is appalling, but you can forgive that given that it is an indie development. No, it is the controls that really let this game down and they are so complex even the step-by-step tutorial doesn't do a good job of explaining them! Having had my rant, for just £2.09 this is still worth a look if you are willing to fight with the controls. But if you ask me it could have been so much better with a much more simplistic control method.