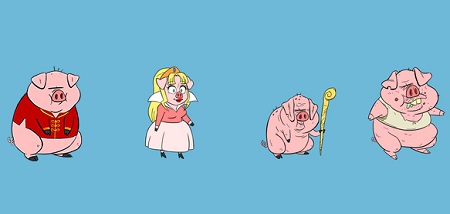 System: Valve Index, HTC Vive, Oculus Rift & Windows MR
Price at Time Of Review: £3.99
Comfort Rating: Green, Yellow, Red
Genre: Endless Runner
Input: Tracked Motion Controllers
Best Playing Position: Sitting
Multi-Player: No
Age Rating: PG
VR Shop Score 1/100: 80
Description: Help Dot the pig roll away from the evil wolf chef, thus ruining his dinner plans. Throughout the escape, Dot will encounter various environments, from forests, snow mountains to sci-fi and even maybe a little trip to other worlds. Who knows. Maybe he's an astronaut pig. Maybe he's a super pig that can fly.
Review: Just when you thought VR games were sometimes a little weird, along comes 'Bacon Roll' to dive even further into those weird depths. It's so many things at once! It's an endless runner, a shooter, a giant sim all rolled into one! Sadly this does mean that the game is hard to get used to, but after just a few goes I was rolling bacon all over the place. With its nice colourful graphics and challenging chaotic gameplay this game more than delivers its value for money, In fact…I might even go so far as to say I would have paid a bit more and still been happy with it! Some people might find it a little too chaotic or slow-moving, but once I got used to it I started to have loads of fun with it. If you need a fun game to pass a few hours with, this game will do just that.