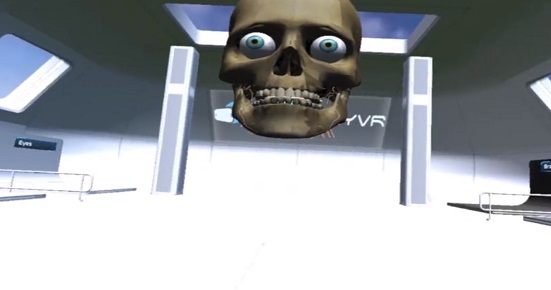 System: Oculus Go
Price at Time Of Review: £2.99 (Oculus Go)
Comfort Rating: Green
File Size: 1.80 GB (Oculus Go)
Genre: Educational
Input: Motion Controller
Best Playing Position: Sitting
Multi-Player: No
Age Rating: PG
VR Shop Score 1/100: 65
Description: Just how similar are we to pigs? Find out how much we have in common with these stinky swine through comparative anatomy. Dissect a pig with award-winning science teacher, Wendy Martin, and learn about our common parts and systems. Imagine an interactive Mr Potato head, and you'd be close to knowing how to navigate our Brain Game. This larger-than-life human head allows you to pick the brain parts and piece them together inside a human skull to see how they form our most complex system.
What do a modern bird and a prehistoric dinosaur have in common? Join us at the Science Museum of Minnesota to find out! Put your understanding of evolution to the test as you examine fossils and skeletons searching for similarities. Be transformed (not really) as you learn about energy transformation and how thermodynamics really works. Humans have more than 99.9% of the same genetics–so how can we be so diverse? Find out that and much more as you dig into your common ancestry.
Review: On the surface Body Awesome does tick all the right boxes. It's educational, interactive and it's pretty easy to use. But look a little deeper at it and things soon start to fall apart. The use of flat-screen videos in VR is one of them and then there is the lack of content as a whole. This apps biggest problem is that there are plenty of other apps that do so much more and offer them for free. Don't get me wrong, this app has its uses, just be aware that there are cheaper, better apps out there.