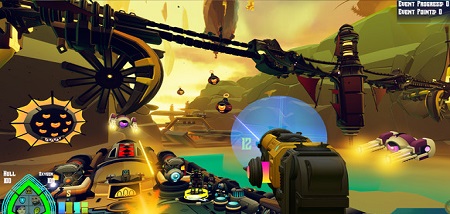 System: HTC Vive & Oculus Rift
Price at Time Of Review: £15.49
Comfort Rating: Red
Genre: Action
Input: Tracked Motion Controllers
Best Playing Position: Sitting
Multi-Player: No
Age Rating: 15+
VR Shop Score 1/100: 80
Description: Become a Captain! Fly your ship and command your crew as you compete to become Champion in a winner-takes-all reality show. Build relationships and plot betrayals to avoid getting voted off the season and become the last captain standing. Optional VR support.
Review: Bow to Blood: Last Captain Standing is something so much different to other VR games that it is almost in a genre of its own. While the transition from flat 2D screen to VR has not been kind of the game it is especially not kind on the player making you feel quite ill on several occasions. But the good news is I do like it and while it does get a little boring it always looks good and feels exciting. But more than that it is just about worth its own asking price and that makes this well worth a look if you fancy playing something different.