---
"…a cross between steampunk and medieval England…"
---
Review System: Samsung S8+ – Running Android 7.0
Price at Time Of Review: £0.79
Comfort Rating: Green
Genre: Shooter
Size: 173 MB
Controller System: Daydream Controller
Best Playing Position: Sitting
Multi Player: No
---
The Bronze (Google Daydream)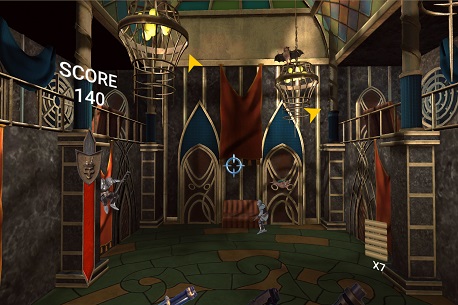 ---
Intro:
Anvilforth's peaceful time has passed. The hand of tyranny has hung over the city. It was created from steam, metal and human suffering. The power of the King Zargus had no limits, as his greed and cruelty. The best smiths and craftsmen have became his slaves to make the tools of death. Everybody was enslaved except Loyd. Even in the dark times, Loyd had hope and longing for the light given him by his daughter Elizabeth. The father and daughter were inseparable. But one day the King called Loyd to his castle and ordered to create a weapon of such deadly power that no one had seen before. The king wanted to see this world in agony at the foot of his infernal throne. The smith tried to persuade the King that he had enough military power to keep his tyranny forever, but Zargus was insane. He promised the blacksmith enormous wealth and power, but Loyd could not agree to this deal.
The king's wrath had no limits, he sweared to take revenge on Lloyd for his impudence. And revenge was terrible: the knights of Zargus broke into the house of the blacksmith and kidnapped Elizabeth. Lloyd was inconsolable, but the last spark of hope lit up in his heart, and his mind was consumed by a flame of unbridled hatred. And he realized that he had nothing to lose, only his life which did not make sense without his daughter. Then Loyd went to war, and nothing could stop him. Ahead he saw the face of Death, but somewhere far away the light of hope was shining … and the way led him to the castle of the King…
---
---
Verdict: The Bronze is a strange collection of things that surrounds the simple shooter style to the main game. With something that is a cross between steampunk and medieval England it's a strange theme that is for sure, but I will say that it's not a bad looking game at all and the essential shooting part is nice and simple with a good (all be it small) selection of weapons. While you don't get much more content than the single £1 you pay you do just about get your money's worth. If you like your shooters and you are willing to try something different, give this game a go.