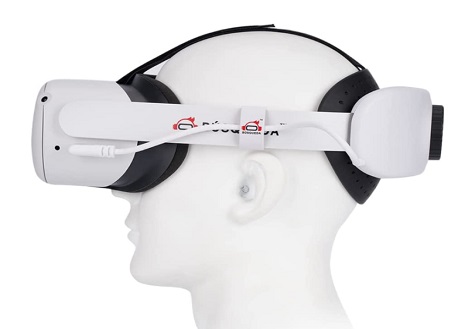 VR Shop Score – Bronze Award
Price (at time of publishing): £79.99
Headsets it Works With: Oculus Quest 2
Type: Strap/Battery Extender
Brand: Búsqueda Store
BUSQUEDA Elite Strap Review
Put simply the 'BUSQUEDA Elite Strap' is a more enhanced durable strap for the Oculus Quest 1 & 2 that also has a better pack attached to it. This 8000mAh battery does offer a good 7hrs extended playtime, but the cool little fan on the back of it is about as much use as a chocolate teapot and sure to make the back of your head feel like it is on fire after a while of use. Sure, this strap does what it needs to do and is easy to attach to the headset, but it really doesn't offer anything over what the official Elite Strap does.
Is The BUSQUEDA Elite Strap Worth Buying?
Sure, it might look cool in pictures, but that little light-up fan on the back doesn't do much at all and the price is quite frankly ridiculous. But if you are looking for a good quality head strap for the Quest and don't want to pay out for the official one this might be a good option. But I would definitely shop around because it seems the price of these can fluctuate widely between sites. While I do give this the thumbs up, you should be aware that there are better head straps out there.