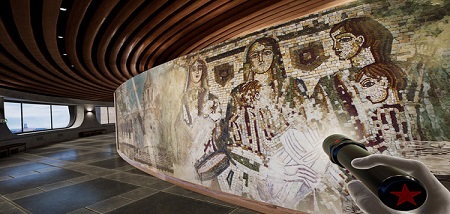 System: Valve Index, HTC Vive & Oculus Rift
Price at Time Of Review: £9.29
Comfort Rating: Red
Genre: Virtual Tour
Input: Tracked Motion Controllers
Best Playing Position: Sitting
Multi-Player: No
Age Rating: PG
VR Shop Score 1/100: 80
Description: Embark on an immersive Virtual Reality adventure and discover one of Europe's most iconic, abandoned structures. Fly the helicopter, play the grand piano, climb the 70m high tower, mess around with a wine gun, all while you uncover the secrets of this UFO-shaped communist legend.
Review: Buzludzha (often called the Peak or Bulgaria) is a Monument House of the Bulgarian Communist Party, but it is not so much more than that and to be fair to it 'Buzludzha VR' really opened my eyes to this amazing structure. But this is not a simple tour of the building, you get to climb it, interact with a load of things and even take a helicopter ride around it. It looks great, is very educational and keeps things light and interesting and there is rather a lot to explore here. Having said all that praise I do feel the current asking price of £9.29 is a tad too much, but for half that or less you should take a look at this at is really is so much more than a virtual tour of an interesting building.