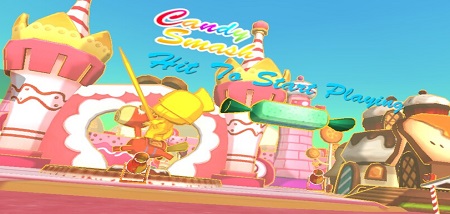 System: Valve Index & HTC Vive
Price at Time Of Review: £6.99
Comfort Rating: Green
Genre: Action
Input: Tracked Motion Controllers
Best Playing Position: Standing or Sitting
Multi-Player: No
Age Rating: PG
VR Shop Score 1/100: 30
Description: Satisfy your hacking and slashing needs in the colourful and mushy candy world. Crush those flying candies and fruits with candy canes and make Pappa Candy happy! Avoid those nasty time bombs at all cost! Experience the most fun you can have in virtual CandyLand.
Review: I would love to tell you that Candy Smash VR is essentially Fruit Ninja VR only with candy instead of fruit. But that would be a lie because what is flung at you in Candy Smash VR is mostly fruit! There is just no getting away from the fact that this is a blatant clone of Fruit Ninja and nowhere near as good in gameplay. There is only one game mode, no real challenge and its £6.99 price tag makes it a very hard piece of candy to swallow. Personally I think you really are better off getting Fruit Ninja on your phone than paying for this in VR. No good at all and one that should be avoided.