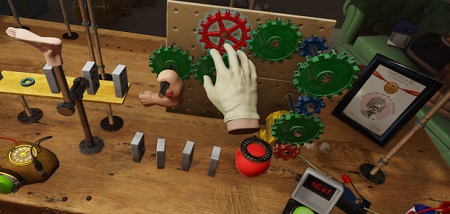 System: Valve Index, HTC Vive, Oculus Rift & Windows MR
Price at Time Of Review: £14.99
Comfort Rating: Green
Genre: Interactive Experience
Input: Tracked Motion Controllers
Best Playing Position: Standing
Multi-Player: No
Age Rating: PG
VR Shop Score 1/100: 70
Description: With Crazy Machines VR the award-winning puzzle game classic enters the Virtual Reality! Complete many crazy chain reactions and experience a rousing adventure surrounding the odd Clumsycorns! Or just mess around in the ingenious new interactive toy rooms.
Review: At its heart 'Crazy Machines VR' is a puzzle game in which you are tasked with placing certain objects in certain locations. Sometimes this is pretty much straight forward and other times it is a bloody nightmare (but at least you have a hint system in place). While I did find the game a little too easy I guess that it is built for younger players with its cartoon graphics and snap-in-place gameplay. I feel asking £14.99 for this might be a little too much for most people and while the quality is here the lack of quantity might leave you feeling empty if you paid full price, so do keep an eye out for it in a sale if you think this might be your cup of tea.