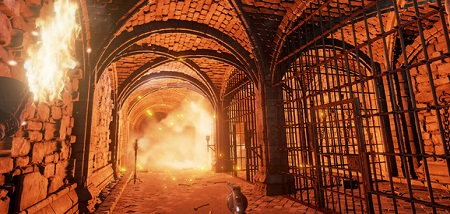 System: Valve Index & HTC Vive
Price at Time Of Review: £6.99
Comfort Rating: Red
Genre: Horror, Shooter
Input: Tracked Motion Controllers
Best Playing Position: Sitting
Multi-Player: No
Age Rating: 15+
VR Shop Score 1/100: 20
Description: Cross Death is a VR survival shooter game for the HTC Vive. This experience will be more interesting and exciting than most game. As an influential figure, you find you are left in a castle after an attack, with the noise of chewing corpse from unknown creatures resounding. Teetering on the brink of the darkness, you will have to use the weapons and tools provided to survive and defend yourself against enemies close enough to attack.
Of course, it just a tray of dishes, the weapons can only drag you away from death, and the correct way of crossing death is exercising your wisdom. In dark corners, or behind the rusty barriers, even a sewer exuding stench, there are secrets of crossing death luring you. Additionally, the scrawls of predecessors may give you a little more help and leading the way forward. However, when you're busy searching for clues, do not ignore the approaching danger from behind. Struggle in the mysterious castle, and figure out the one who caused all this. Good luck to you!
Review: Cross Death VR could have gone on to become a pretty great game, but alas it seems it is just another bit of VR abandonware. It was going to be a wave shooter, very much in the same style as The Brookhaven Experiment, only much more enclosed corridors. But this is one game that is definitely best avoided as it barely works in VR and is pretty nauseating to play once it loads up and to be honest it might look good, but the gameplay leaves a lot to be desired. Maybe once day this will be fixed, but until then avoid this one like the plague.