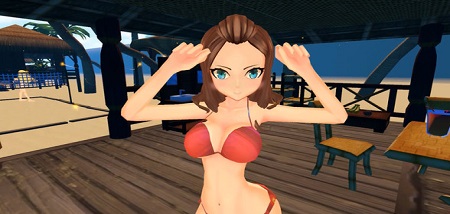 System: Valve Index, HTC Vive & Oculus Rift
Price at Time Of Review: £6.19
Comfort Rating: Green
Genre: Adult / Dating
Input: Tracked Motion Controllers
Best Playing Position: Sitting
Multi-Player: No
Age Rating: 18+
VR Shop Score 1/100: 10
Description: Meet cute girls and dance with them to the cool songs. All this inside nice styled locations! Cute girls will let you feel the presence of characters like they would be next to you. Prepare for the great party!
Review: Hey you! Yeah, I'm talking to you. Do you like…anime girls? You do? What about…anime bouncing boobs? You do? Then I have the perfect game for you. 'Cute Girls VR' sees you being able to watch 3 scantily clad girls dance in 3 different locations. You can move around them and get…up close. And for 3 girls, no gameplay no nudity whatsoever all you have to pay is £6.19! Serious, this is yet another soft-porn experience that is overpriced and not worth downloading. But people will still download it regardless.