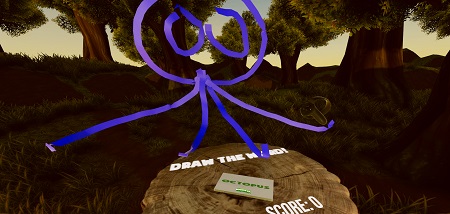 System: Valve Index, HTC Vive & Oculus Rift
Price at Time Of Review: £7.19
Comfort Rating: Green
Genre: Party Games
Input: Tracked Motion Controllers
Best Playing Position: Standing
Multi-Player: Yes
Age Rating: PG
VR Shop Score 1/100: 70
Description: Doodle VR is a Pictionary like VR game. A classic word guessing game where one person draws a picture in virtual reality and the teammates have to guess what is being drawn. Perfect as a party game or for team building sessions!
Review: There are a few party games that put "Pictionary" into the world of VR, but none are as simple in both design and gameplay than 'DoodleVR'. But that is not necessarily a bad thing as you can get straight into the gameplay here and with 1500 words to try and explain to your viewers there is more than enough content. As with any party game unless you have friends and family to play with it is pretty much pointless, but if you have some people to play with I feel this is well worth a look. OK, so it's not the best use of VR nor the best game in its category, but it does what it needs to do in a clean and simple way.