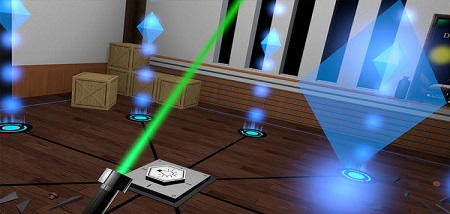 System: Valve Index & HTC Vive
Price at Time Of Review: £11.99
Comfort Rating: Green
Genre: scape
Input: Tracked Motion Controllers
Best Playing Position: Standing
Multi-Player: No
Age Rating: 15+
VR Shop Score 1/100: 65
Description: "DOOORS VR" is stage clear type real escape content. In the smartphone application, the popular series that exceeded the cumulative total of 30 million DL has been reborn as VR contents that can be enjoyed more intuitively. The goal of this game is to break out of the rooms. Solve the mystery hidden in the room, use the item, open the door and complete all the stages!
Review: While DOOORS VR is little more than yet another escape room style game it does at least pack a lot into each room with multiple puzzles to solve in each one. And this is not a game that will hold your hand, it will take some real deep thinking to find out the solutions to many of them. This is one escape room game that is best played by people who have already played a few of these games, not just jumped into the genre. I do feel £11.99 is way too much for this game and suggest you wait till it drops its own price significantly before giving it a go.