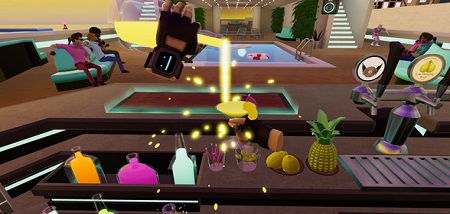 System: Valve Index, HTC Vive & Oculus Rift
Price at Time Of Review: £15.49
Comfort Rating: Green
Genre: Virtual Job
Input: Tracked Motion Controllers
Best Playing Position: Standing
Multi-Player: No
Age Rating: 15+
VR Shop Score 1/100: 85
Description: Throw yourself back into an alternative 80's, where gangs rule the streets but the party must go on. As a hard-as-nails bartender, it's your job to keep the drinks flowing and the bad guys off your turf. You have been entrusted with B.A.R.R – the latest and greatest in sentient drink preparation technology, and it's up to you to keep it out of the hands of those who would use it for far more nefarious purposes. Luckily, B.A.R.R is also equipped with the latest in anti-theft technology – you.
Review: Double Shot is an action shooter game and a virtual job game rolled into one. You will be mixing drinks like Tom Cruise in Cocktail one minuets and taking bad guys out like John McClane in Die Hard the next. I have to say, its a pretty good game and the 80's aesthetic really match the gameplay style. Maybe paying £15.49 for this is asking a little too much, but grabbing it in a half-price sale will soon put paid to that problem. If you like drinking or shooting, this game is well worth a look, even if you don't remember what the '80s were like.