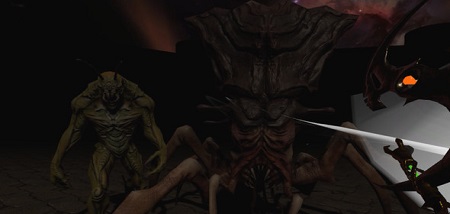 System: Valve Index & HTC Vive
Price at Time Of Review: £0.79
Comfort Rating: Green
Genre: Action
Input: Tracked Motion Controllers
Best Playing Position: Standing or Sitting
Multi-Player: No
Age Rating: 15+
VR Shop Score 1/100: 70
Description: Battle monsters of the darkness with a kinetic blade! Intense combat and blade throwing action in adrenaline-inducing VR! Skirmish through progressive levels of challenge and adversity to find ultimate victory or your fatal demise. Defeat the darkness! Wield the Glaive!
Review: Glaive is your classic wave shooter, only it does have an end boss which is pretty good. You really do have to take into account the price of this short game and consider how much you think you might get for just £0.79 ($1). To be fair the hard mode does offer a real challenge and while you probably won't be playing this for any more than a few hours while it lasts its OK, certainly not the worse wave shooter I have seen in VR. I say give it a go if you like the look of it, but don't expect much more than the price you are paying (IE: Very little).