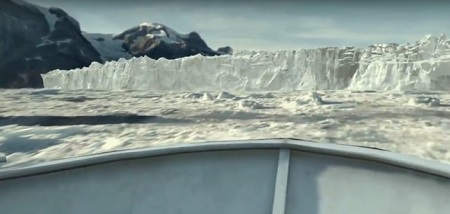 System: Valve Index & HTC Vive
Price at Time Of Review: Free
Comfort Rating: Red
Genre: Interactive Experience
Input: Keyboard & Mouse
Best Playing Position: Sitting
Multi-Player: No
Age Rating: PG
VR Shop Score 1/100: 70
Description: Greenland Melting is a virtual reality experience that introduces and brings educational awareness to the effects that the warming waters of the ocean have on glaciers, specifically in Greenland. Through this experience, you follow two NASA scientists who explain the process of studying why the glaciers in Greenland are melting. On the heels of the United States' withdrawal from the Paris Climate Agreement, Greenland Melting provides timely and much-needed information on the subject of climate change. Gain access to NASA scientists as they conduct groundbreaking research into a transforming landscape with ramifications for the entire world.
Using cutting-edge technology to create a state-of-the-art immersive piece, Greenland Melting allows viewers to experience being in Greenland – standing in the water in front of a glacier, flying at low altitudes over some of the world's most stunning scenery, and diving beneath the ocean's surface to see what NASA's studies are revealing about how deep Greenland's fjords go – and how quickly warm ocean water is melting them.
Review: 'Greenland Melting' is a pretty self-explanatory educational experience that talks about why Greenland is melting and more importantly what it means for us humans. This interactive experience is a mix of some 3D with a lot of 360 video wrapped around it, so you do end up with something that looks a little weird, but looks real at times. The whole thing lasts about 12 minutes and is worth a look even if it is just the once, but it is a good job that it is free because even the smallest of fees would have put me off recommending it.