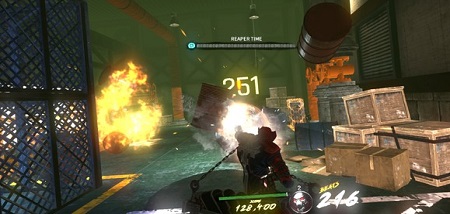 System: Valve Index, HTC Vive & Oculus Rift
Price at Time Of Review: £7.99
Comfort Rating: Yellow
Genre: Action
Input: Gamepad
Best Playing Position: Sitting
Multi-Player: No
Age Rating: 15+
VR Shop Score 1/100: 40
Description: A standalone GUNGRAVE VR adventure featuring new enemies, stages and more! After the battle to eradicate the nefarious drug SEED from South City, peace appears to have returned to the metropolis. While rolling up the remaining distribution networks for the drug, Mika has received confidential intel on a chemical plant in the suburbs of South City, where suspicious lifeforms suggest the presence of SEED. The battle is not yet over.
As undead assassin Beyond the Grave (Grave, for short) battles alone behind enemy lines…a mysterious man watches his every move. In addition to third-person action, GUNGRAVE VR U.N introduces brand new side-view stages that mix VR action with the feel of classic side-scrollers. Experience the next level of intense VR action!
Review: Just when you thought Gungrave VR tarnished the Gungrave name, along comes Gungrave VR U.N to lay the boot in and make a game that is even worse than the already terrible Gungrave VR! I have had meals that lasted longer than this game and some of those were from McDonald's! From the pointless, painful action to the terrible controls, this really is a failure to the Gungrave name and VR games as a whole. This is one game best to get as cheaply as you can as I certainly wouldn't want anyone to pay much more than a quid or two for this.