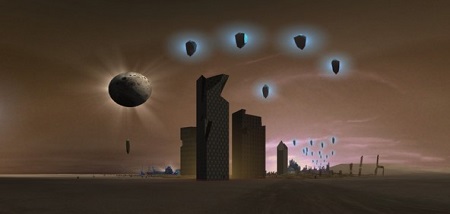 System: Valve Index, HTC Vive, Oculus Rift & Windows MR
Price at Time Of Review: Free
Comfort Rating: Green
Genre: Interactive Experience
Input: Tracked Motion Controllers, Keyboard & Mouse
Best Playing Position: Sitting
Multi-Player: No
Age Rating: PG
VR Shop Score 1/100: 60
Description: It is twenty thousand years in the future and our signals have been received, but it is too late for life on earth. The hyperdimensional crystals have arrived at a blasted wasteland. They can see the beauty in our ruins, and something of themselves in our striving. They must first clear away these desiccated remains and send some of it to their museum. They reconstruct this planet in their own image and restore a harmonious balance.
Here & Elsewhere was inspired by the architecture, location and story of the venue itself. It is a beacon of crystalline creativity growing like a mushroom out of the rotting, industrial landscape of Bushwick, Brooklyn, NY. The piece is intended to be a meditation on archaeology, history and the inescapability of misinterpretation in reconstruction. It is also meant to shine an optimistic light on the inevitable decline and destruction of our civilization and species. The earth will reabsorb our ashes into her womb and we will become part of whatever comes next.
Review: Here & Elsewhere is a rather odd interactive experience in which you will be helping some sort of alien crystal to restore Earth after us humans are long gone. It mostly consists of point and clicking on various objects rather than any real gameplay, but it was an interesting experience, to say the least. It is a good job this experience is free because if there was a fee I might not have recommended it as it is over way too quickly for my liking. Maybe give it a look and let me know what you thought about it in the comments below. I thought it was an oddly relaxing experience that doesn't go far enough to make you immersed in the moment, but it does somehow manage to hold your attention.