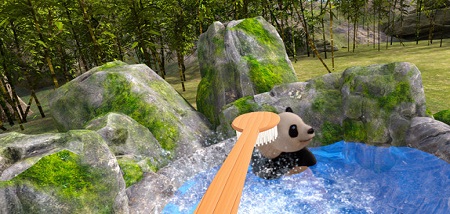 System: Valve Index & Windows MR
Price at Time Of Review: TBA
Comfort Rating: Green
Genre: Virtual Pets
Input: Tracked Motion Controllers
Best Playing Position: Sitting
Multi-Player: No
Age Rating: PG
VR Shop Score 1/100: TBA
Description: In the VR scenario, 1 scenes of panda life are realistically restored. There are areas of interactivity, such as lawn, tree, bamboo forest, bamboo leaf, etc. in virtual scenes, players can move and walk in the virtual scene, and instantly move to the designated locations in virtual scenes. The player touches objects or models in the virtual scene, and when the handle is touched, the handle will vibrate and pick up the virtual objects (bamboo, bamboo leaves) and feed the pandas. In the virtual scene, virtual objects are used to interact with pandas. There are different sizes of pandas in the scene. Each panda has its own AI behaviour and can interact. It enables players to observe the panda better and interact with them. With the deepening of interaction, we can unlock more new interactive modes while increasing intimacy.
Review: (TBA – To Be Announced) – Sadly this game is not yet released and we have no idea when it might be. So, for now, we can't really review the game even if there is a free demo for it as it would not be an accurate review of the full game. But as soon as it does become available we will review it and make a gameplay video for you to watch.