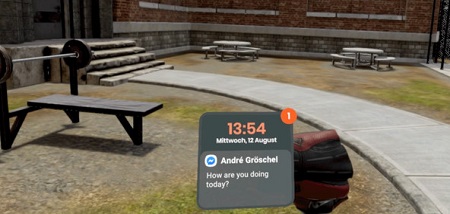 System: Valve Index, HTC Vive, Oculus Rift & Windows MR
Price at Time Of Review: £4.79
Comfort Rating: Green
Genre: Tool/App
Input: Tracked Motion Controllers
Best Playing Position: Standing or Sitting
Multi-Player: No
Age Rating: PG
VR Shop Score 1/100: 90
Description: Take your smartphone to Virtual Reality! Receive call notifications, messages, and other notifications while enjoying your VR games and experiences. Create snapshots that are stored directly on your phone and share your favorite moments with friends.
Review: Holoswitch is one of those apps you don't know you need until you start to use it. It basically allows you to use your phone in VR. You can read and send messages, answer phone calls and also read any notifications you have. While it doesn't auto-start which is a shame it is a program that is easy to use. At first, I thought it was an OK idea and now I can hardly use VR without it running, this is especially true with bigger, longer VR games. While I do wish it was free I get that ongoing development and support costs money, so I am happy to pay it. The only thing that surprises me more is that Oculus hasn't released their own version of this already.