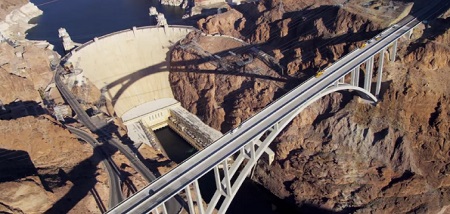 System: Valve Index & HTC Vive
Price at Time Of Review: £7.19
Comfort Rating: Green
Genre: Interactive Experience
Input: Tracked Motion Controllers
Best Playing Position: Sitting
Multi-Player: No
Age Rating: PG
VR Shop Score 1/100: 75
Description: Industrial VR is something new in the world of VR exploration and educational experiences. Combining an innovative documentary-style approach with visuals powered by Unreal Engine 4, the game takes players deep inside the most intriguing industrial facilities in the world. Players will go inside the pipes and through the machinery, a journey that would be impossible in the real world.
Review: There are a few things current VR technology is good for. The first is when it is used as an educational tool and the other is giving people a sense of immersion and scale. 'IndustrialVR – Hoover Dam' gets one of those things right. You see, its a great app! The model of the Hoover Dam is impressive as well as the sheer amount of content that you can learn about the dam itself and its inner workings, it's all very Discovery channel quality. But it makes zero use of VR's ability to show scale. This app is a lot more than an educational tool, but currently, that is what its main use will be for. It's interesting enough to be worth a look and has the quality to just about justify the asking price, but I do feel it could have been so much more.