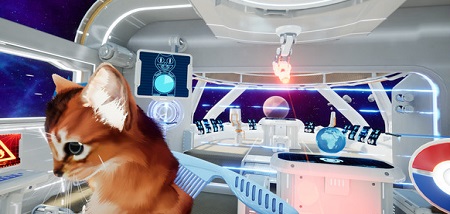 System: Valve Index, HTC Vive, Oculus Rift & Windows MR
Price at Time Of Review: £11.39
Comfort Rating: Red
Genre: Virtual Pets
Input: Tracked Motion Controllers
Best Playing Position: Sitting
Multi-Player: No
Age Rating: PG
VR Shop Score 1/100: 80
Description: Take care of cute kittens – lots and lots of cute kittens! Get points for keeping them happy and lose points for everything they destroy. Use points to upgrade your tools. Or just hang out and play with lots of cute kittens in the more relaxed sandbox mode.
Review: I probably shouldn't be saying this, but I have to say I really enjoyed playing Kitten'd! It's a time management game of sorts in which you have to look after 1 or many different kittens. I will even go so far as to say I feel it is worth the £11.39 asking price! It might not sound like a lot of fun looking after your virtual cats, but it is indeed more fun than it sounds. There is all sorts of missions to do and loads of upgradable things to make your life a little easier. Sure, it's crazier than a bag of cats, but I for one oddly liked it, although I have to say it is probably aimed at the little ones rather than us adults (but that didn't stop me having fun with it!).