---
"…can't wait for the full game to get released."
---
Review System: Oculus Rift CV1
Price at Time Of Review: Free
Comfort Rating: Green
Genre: Real-time strategy (RTS)
Size: 4.55 GB
Controller System: Gamepad
Best Playing Position: Sitting
Multi Player: Yes
---
Landfall (Oculus Rift)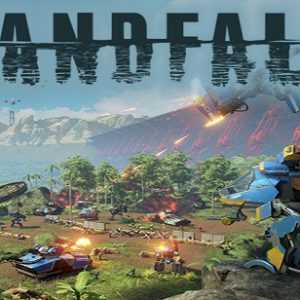 ---
Intro:
After the oceans flooded the Earth, the remains of mankind recovered and united. But it did not take long for conflict to find its way back into the newly built civilization. Now two factions fight for control of the new resources found deep in the Earth's crust. So suit up and destroy your enemies to reclaim your homeland in Landfall, an immersive tactical action shooter game that gives players both a panoramic 3rd person and immersive 1st person view of the battlefield during fights.
Review: The story goes that land is now scarce and you must fight for what is left of it after the polar icecaps melted. Using various war machines you must help your side to secure sea walls and other prime bits of land to tip the scales of war in your balance. Played from a god-like position does mean you won't be suffering any motion sickness that comes with several other strategy games. Controlling the main commander you help your troops advance bit by bit.
With some gorgeous visuals making each character and piece of equipment seem real, this is a very easily immersive game that you can get the hang of quickly thanks to its step by step tutorial and there isn't too much depth to the games mechanics. Not that there isn't depth to the gameplay, it's just everything is easy to access and get the hang of, there isn't half the usual strategy game complicated menu and control system. At the moment you only get to play in 1 multiplayer game and there are no single play campaigns, but given that its free you can't really complain.
---
---
Verdict: It looks great, easy to get the hang of and the multiplay matches are amazing, but that lack of a single player mode at the moment is this games biggest flaw. But as I have said before and will remind you all again, this is an open beta, so expect a lot to change once the full game comes out. But there is tonnes of promise here and I can't wait for the full game to get released.