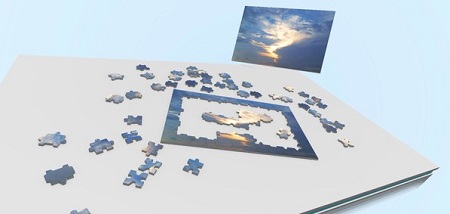 System: Valve Index, HTC Vive & Oculus Rift
Price at Time Of Review: £1.69
Comfort Rating: Green
Genre: Puzzle
Input: Tracked Motion Controllers
Best Playing Position: Sitting
Multi-Player: No
Age Rating: PG
VR Shop Score 1/100: 70
Description: In《Make A Jigsaw Puzzle》you can customize the length and width of the puzzle, the picture and the puzzle edge. Then you can play it on a platform that could move freely.
Review: 'Make A Jigsaw Puzzle' is the Ronseal of games, it does exactly what it says on the tin (ask your parents about that saying). It really is a jigsaw puzzle maker. You can choose an image of your own or from the small selection of ones on offer. Then you make the jigsaw how you want it, all the way up to 150 pieces which should last most people a little while. While very basic I feel the small price does reflect this and for those who enjoy jigsaw puzzles, this might be perfect. But I do wish you could make it more pieces, then save your progress. But for £1.69 you can't go wrong here…unless you don't like jigsaw puzzles that is.