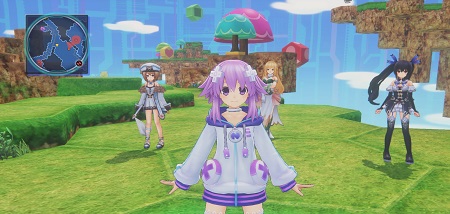 System: Valve Index, HTC Vive & Oculus Rift
Price at Time Of Review: £23.79
Comfort Rating: Red
Genre: Role-Playing Games (RPG)
Input: Gamepad, Keyboard & Mouse
Best Playing Position: Sitting
Multi-Player: No
Age Rating: 15+
VR Shop Score 1/100: 10
Description: Gamindustri – a world sitting at the convergence of multiple dimensions. Of these existed the Zero Dimension, a world on the brink of collapse. Zero Dimension's last guardian, Uzume Tennouboshi, waged a war against a mysterious evil known as the Dark CPU. Her desperate cries for help crossed dimensions and reached Neptune, the CPU of Planeptune, who would leave her world to join the fight.
Review: You are probably wondering what made me give this EPIC RPG such a low score! After all, the graphics are great, the level of content is a good 40 hours plus and the game feels amazing to play with a gamepad with everything feeling very traditional. But this is not 2D screen reviews, this is the VR version and this game is not built for VR nor is it even remotely playable in VR. Oh, when I say it isn't playable in VR I am not talking about the controls, it REALLY isn't! You get to enjoy a few cool VR scenes, but the game plays on a 2D projection screen in front of you with no scenery! It's so pointless it hurts and only damages the name of the classic franchise.