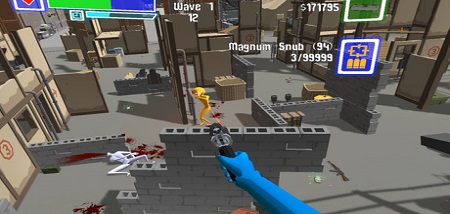 System: Valve Index, HTC Vive & Oculus Rift
Price at Time Of Review: £19.49
Comfort Rating: Red
Genre: Action
Input: Tracked Motion Controllers
Best Playing Position: Standing
Multi-Player: No
Age Rating: 18+
VR Shop Score 1/100: 70
Description: MENTAL is an Action/Shooter/Parkour VR game that combines revolutionary movement mechanics with the most intense combat VR has ever seen. Wallrun, shoot, slice and fight your way through merciless cartoon enemies in an effort to survive.
Review: 'MENTAL' is a tough game to review it really is. On the one hand, it is a full-action gorefest that at times can be a joy to play, but on the other hand, it is a vast overpriced game with very basic stickman graphics. It's like a poor mans Boneworks, only with the same price! It's not just the price I have an issue with it is the gameplay at times as well, with the enemies being a little too kamikaze'ish. There is a lot of potential here and I can highly recommend this for a download, but do try and get it in the best sale possible as the overall quality just isn't here and that will put a lot of people off playing this long enough to justify the full asking price.