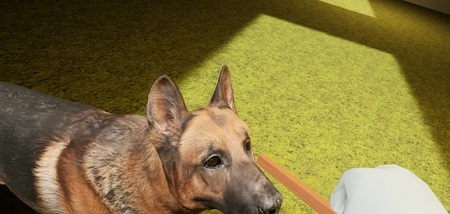 System: HTC Vive & Oculus Rift
Price at Time Of Review: £6.19
Comfort Rating: Green
Genre: Virtual Pets
Input: Tracked Motion Controllers
Best Playing Position: Sitting
Multi-Player: No
Age Rating: PG
VR Shop Score 1/100: 10
Description: My Unreal Pet is an experience game that temporarily protects abandoned dogs for 7 days. Challenge yourself if you can keep a dog!
Review: While I do think there was some good intension when 'My UnReal Pet' was made, sadly they been lost along the way. In essence, this is a virtual pet style game so you need to look after your dog by petting them, feeding them and generally taking care of them, but there isn't enough gameplay for a virtual pet game and there isn't enough educational content to make it an app about abandoned pets. If this ever becomes free and you really love virtual dog pets maybe give it a look, but I definitely wouldn't pay £6.19 for this.