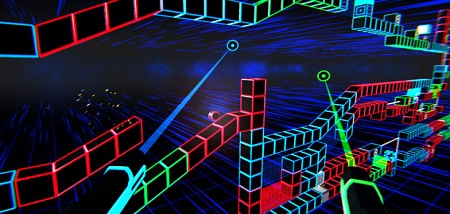 System: Valve Index, HTC Vive, Oculus Rift & Windows MR
Price at Time Of Review: £7.19
Comfort Rating: Yellow
Genre: Arcade
Input: Tracked Motion Controllers, Gamepad, Keyboard & Mouse
Best Playing Position: Sitting
Multi-Player: No
Age Rating: PG
VR Shop Score 1/100: 80
Description: Travel through a world of neon, solving puzzles and overcoming obstacles. This experience requires focus, concentration, and timing to let the ball rolling as fast as you can. Remember… in a world made of neons… you will need balls to survive. Neonwall is an innovative game that mixes the genres of puzzle and action to develop addictive and frenetic gameplay. You do not handle the ball, you interact with it and the world around it. The objective is to take the ball to the goal of avoiding the obstacles that block the way.
The way to interact in the game is with two coloured lasers controlled with the joystick, the lasers can break blocks, move them and most importantly exchange the colour with the neon ball. The colour in Neonwall is very important! The ball moves faster, opens doors on the floor and walls of its colour. Lasers only interact with elements of the same colour. In short, you have three colours have to be exchanged between the lasers and the ball, if done correctly and accurately victory is a possibility.
Review: Having played this game on a normal 2D screen I was looking forward to playing it in VR and for the most part, it didn't disappoint me. It definitely feels better to play in VR and using the motion controllers makes the game even more exciting. While basic in the graphics department it makes up for it in gameplay and the later levels really are a tough challenge. Sure, you will get bored doing the same thing over and over again, but it kept me amused for long enough to justify its own asking price so I am more than happy to recommend it.